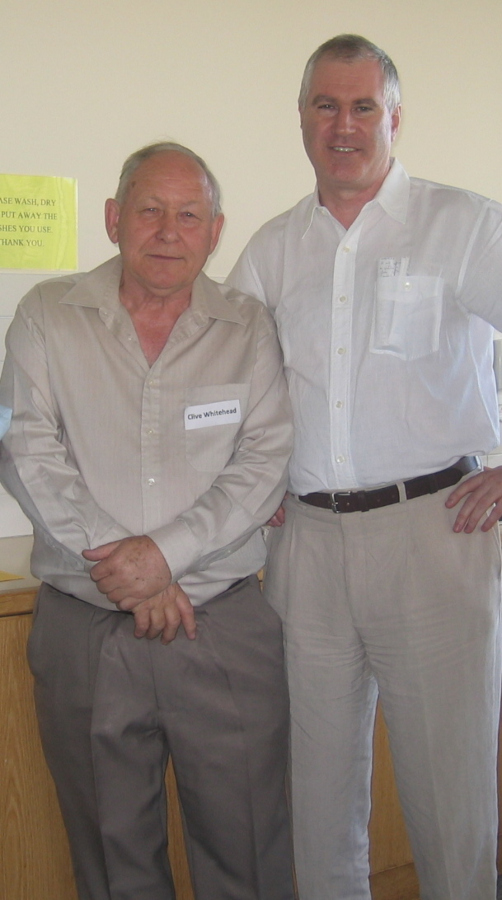 "Clive (on left) with longstanding colleague and friend, Professor Tom O'Donoghue"
In Memoriam – Professor Clive Whitehead, Former Editor-in-Chief
10 April 1939 –18 June 2021
We are deeply saddened to announce the passing of the longstanding former Editor-in-Chief of ERP, Professor Clive Whitehead.
Those of us who worked with Clive closely at UWA will miss his unique presence deeply. Clive tirelessly called upon us to pursue the highest standards of academic work we could achieve, but also, to embark on this pursuit with impeccable integrity. He inspired this in others he met not by speaking about such things in the abstract, but by providing his own formidable example of same. As one of our most trusted and respected colleagues, Clive was also a friend that we knew could be counted upon to respond to everyone with kindness and decency in times of trouble. We cite here an excerpt from Clive's tribute to a close colleague, Richard Aldrich, who passed in 2015:
"Ladies and gentlemen I have taken up much of your time highlighting how we became 'mates', a term held in great esteem in both Australia and New Zealand. Mateship is a term which was given a unique quality 'down under' by the sacrifices made by ANZAC troops at Gallipoli and in France in the first world war. In essence, one would give one's life to save one's mate in time of war. When I turned 70 some six years ago I received a card from Richard which said it all. He congratulated me on reaching 70 and said that if he could choose anyone to be with at a time when his life was in danger, as in war, it would be me. It was a most humbling moment in my life and I readily admit that it brought tears to my eyes. To paraphrase what I said when Richard died; at the going down of the sun and in the morning I will always remember him with love and gratitude. I was so fortunate to travel some part of life's journey alongside him."
Turning back now to the matter of Clive's own passing, we echo these same sentiments about him. As we continue our travels through this life in the wake of Clive's passing, we all will remember him with deep affection and gratitude. If any of us could choose someone to be with at a time when our lives were in danger, it would be Clive. It has been our privilege to have Clive walk beside us to this point as a friend, colleague, and constant source of hope and inspiration.
This issue is devoted to commemorating Clive the scholar. It opens with an account he wrote himself of his own schooldays. Tributes from former colleagues at UWA, in Australia and overseas follows. The core of the issue is five academic papers by currentlyenrolled students and recent graduates of the Graduate School of Education, UWA, Clive's academic home for most of his career. All address his interest and scholarship in history of education and in international and comparative studies in education. The different referencing systems used in these is because of the different traditions in those discipline areas. A tribute that Clive wrote to his late friend, Prof. Richard Aldrich of the London Institute of Education follows. It indicates as much about Clive as it does about Richard. Finally, a list of the best of Clive's best and most influential publications is outlined.
Vale Professor Clive Whitehead, Our colleague and friend.
Associate Professor Elaine Chapman, Professor Tom O'Donoghue, Professor Simon Clarke, Professor Stephen Houghton
Clive's Schooldays
Clive's Early Schooldays in England – A paper given by him from his private collection to Tom O'Donoghue.
Read About Clive's School Days Here
Tributes to Clive
Tributes from friends and colleagues of Clives.
Read Tributes Left For Clive Here
Clive's contributions to Richard Aldrich
Clive Whitehead's Contribution to the Commemoration Day for the late Prof. Richard Aldrich of the Institute of Education, The University of London.
Read Clive's Contribution Here
Selected publications of Clive Whitehead
A selection of publications from Clive in Academic Papers and Book Chapters.
Find Clive's Publications Here
Special issue papers in honour of Clive
A short selection of papers issued in honour of Clive.
Read Special Issue Papers Here